What Embroidery House Inc. Is All About
Serving the Greater Grand Rapids, Grandville, Hudsonville, and Jenison area, the Embroidery House of Jenison, Michigan carries sportswear which is custom-embroidered and screen printed with your logo or design for promotional advertising, gifts, incentives, etc. Jewels, patches, and other personalized features are also available.

Our products can be tried on in our showroom or brought to you through appointment. We provide catalogs that help in the selection of your product. Simply select one of our products, give us your logo and quantity, and we will quote based on your needs.
Featured Item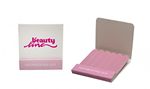 Matchbook Nail File
Matchbox emery tile, includes six removable nail tiles. Note: custom four color process printing available for 5,000 minimum quantity, call for quotation. Custom 4-Color Printing Available For 5,000 P...
$1.50 - $2.25